Online reputation
Restore an online reputation worthy of your brand
Easily manage your public customer reviews and improve your Google ratings with our online reputation management solution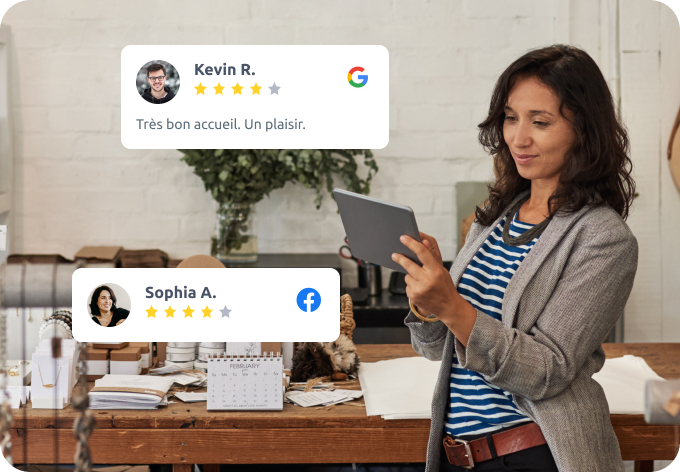 listen to and centralise your customer reviews
Handle your online customer reviews from a single platform
WizVille monitors and centralizes in real-time the customer reviews published on the leading online public platforms (Google My Business, Facebook, Tripadvisor, etc.) for all your establishments or outlets.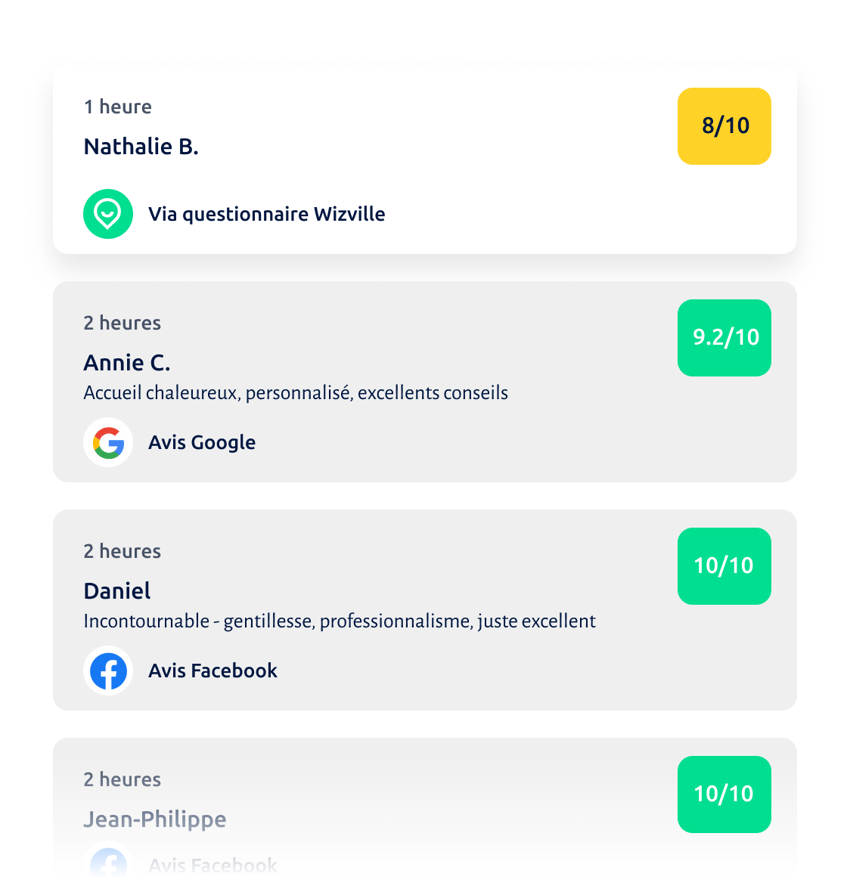 Centralized feedback
Our WizVille interface facilitates processing your online reviews by centralizing them on a single, customizable platform.
Analyzed reviews
Just like the opinions collected through our satisfaction surveys, we analyze the verbatim of your online reviews to identify the main subjects of satisfaction and dissatisfaction.
Easy answers
Answer customer reviews directly from the WizVille platform. Provide fully personalized replies or use pre-recorded messages.
Analyze and share
Gain the trust of online users by posting your own customer reviews
Enhance customer satisfaction and gain consumer trust by publishing verified customer reviews on all your channels.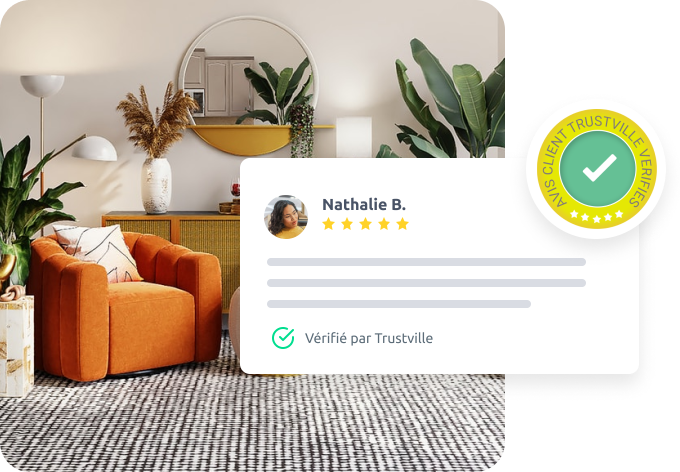 100% verified opinions
Our trusted third-party TrustVille guarantees the authenticity of all customer reviews posted on our platform in compliance with the ISO standard 20488:2018.
Google Stars
Display your best customer reviews in search results (through rich snippets) and/or Google My Business.
Multi-channel publishing
Publish your customer reviews wherever: on your website, on Trustville.fr, on Google or in-store...
Product reviews
Publish verified customer reviews for all your products or services on your e-commerce website or in-store.
Stores reviews
Post verified reviews of your stores on your website, your store locators or directly on Google My Business.
"As glasses and hearing aids are an emotional purchase, prospects will do more research on the product they want, the point of sale or the company before making a purchase. First, however, they need to be reassured! That's why we have made our verified customer reviews publicly available through Trustville."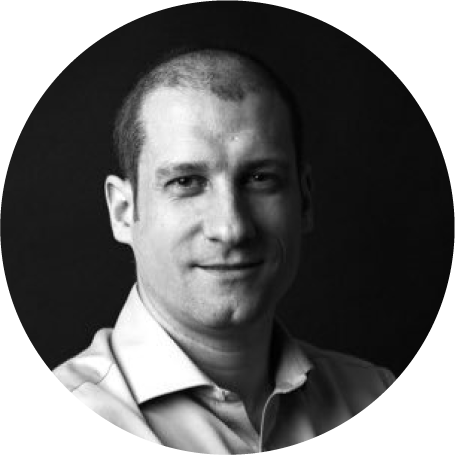 Karim Khouider
Digital and E-commerce Director, Acuitis
Activate
Boost your Google My Business reviews
Google My Business reviews significantly impact your organic rankings and play a significant role in determining your online reputation. However, most of the time, these reviews could represent reality more.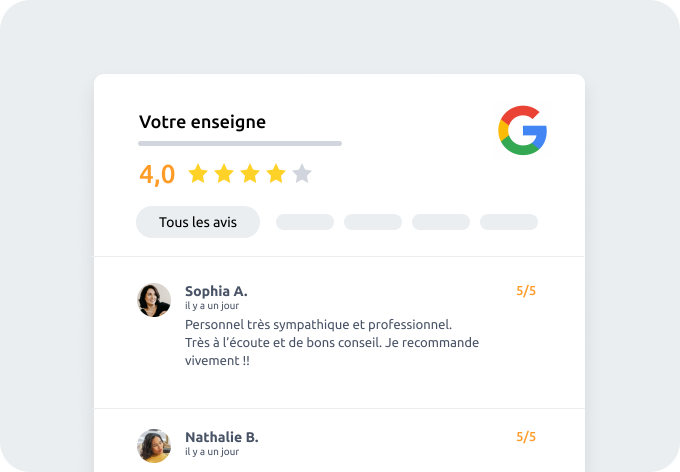 More and more reviews
Invite consumers to leave a review on your Google listing directly from your customer satisfaction survey.
Better rankings
Your rankings naturally rebalance and more accurately represent your level of customer satisfaction.
Quick results
Within a few weeks, our customers are seeing significant increases in their Google rankings and the number of customer reviews.
Analyze and prioritize
Semantic analysis for e-reputation
Google reviews could be more usable.
Our semantic analysis compensates for this weakness by giving insights into the topics important to consumers in your market and simultaneously showing you your competitive positioning.

Quickly identify your strengths and weaknesses in your sector, and prioritize the topics to work on to gain competitiveness.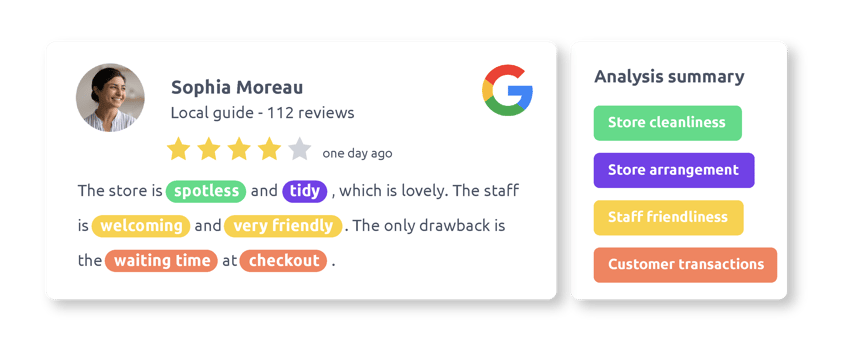 Categorization and classification
Classify your client verbatim by subject/theme associated with a feeling (positive, negative, neutral).

Machine learning
No matter the size of your dataset, we can train our machine learning to learn and develop a model without waste based on an annotated sample.
Multilingual
Our customer verbatim analysis can be deployed on customer opinion collection systems operating in several countries and languages.